Looking for the Best Sussex Dogging Locations in West and East Sussex, then why not try Camber Sands, Hastings, Brighton or Littlehampton.
LATE NIGHT DOGGING IN HASTINGS
I decided a little late in the day to go out and find a good dogging spot in Hastings, so didn't know where I was going until 9.30pm. I arrived and parked up and had a quick stroll down the line of cars to get a feeling of who was about, two couples at the end with a few single guys thrown into the mix. Problem was the boy racers turned up and were wheel spinning at the far end so nobody was going to get it on whilst that was happening. So I decided to try one of the small car parks and was glad I did. Pulled in and there were two blokes peering into a car, so I went over to join them and there was lovely brunette Hastings milf I recognised, she worked at the local betting shop. Long black stocking legs, summer dress hitched up to her waist showing off her underwear and everything out on display…..
EAST SUSSEX DOGGING SPOTS
Arlington
Woods beside the road not far from Arlington Eagles speedway track. Lots of dog walking areas and lots of secluded places. Men and couples, during daytime.
Brighton
Dukes Mound, The Temple. Located next to Brighton Marina, Dukes mound stretches for about a quarter of a mile with lots of hiding places with a big temple at one end. This place is popular 24 hours a day, although note, lots of gay dogging action here.
Brighton's infamous Nudist Beach, conveniently located directly in front of Dukes Mound is extremely popular with doggers, voyeurs, etc. but make sure you don't offend the naturists.
Devils Dyke is a well known and major dogging site, off the A24 towards Brighton.
Chailey Common Nature Reserve
Just off A272 leading from Scaynes Hill to Newick, turn off to the right and about 50 to 100 yards there are two areas, take your pick!
Crowlink Car Park
Crowlink car park, down the road from Friston Pond, take a left on the A259 heading West towards the Cuckmere Haven. Used nights all week long.
Ditchling Common
Ditchling Common is just south Wivelsfield Green. At dusk head into the many wooded areas for regular dogging sessions on the picnic tables there and further on by the lake.
Eastbourne
Butts Brow going from triangle in Polegate, Willingdon to Eastbourne on Willingdon. Drive through first set of traffic lights then you see a fuel station right hand side, take slip road behind station just before the station, follow the back road, you go past the Wheatsheaf Pub on left then about 50 yards on right there's a steep road it's a long one when you get to the top you will see the whole of Eastbourne and dogging heaven.
Sevenoaks Road, Langney, opposite is a very rural spot around a big lake, plenty of adult fun with fishermen at night, very secluded, and quiet.
Secluded picnic area on adjacent to seafront on Prince William Parade. From Leisure pool roundabout go along Prince William Parade to where yellow lines on seaward side of road stop. The path at that point to seafront has bushes on both sides, on one side is the leisure pool car park, on the other is a hollow with bushes all round, in here is a picnic area ideal for summer evening sex and meets.
Friston
Friston Forest. Going down the A22 towards Eastbourne take the right at Polegate towards Friston, then keep going for about 3 miles until you reach Friston Forest on the right hand side. Well secluded, with a good chance of catching some car fun during the weekend evenings.
Hastings
Hastings Country Park, top car park. Busy on Friday nights.
Hove, Foredown Tower
Along the bumpy track past Foredown Tower off the A27 north of Hangleton, Hove, night time fun by the horse paddocks.
Manor Barn
Frequent meetings, mainly gay dogging.
Nudist Beach, past Hove Lagoon
Gay action during the day, but swingers of both sexes in the evenings during the warmer months.
Old Lodge, Ashdown Forest
Go in the direction of Hartfield on B2026 (Sat Nav TN22 3JG) past King's Standing Car Park, bear Left, Old Lodge on Left. Some action in car park but most on road to Old Lodge into forest. Go through gate past cottages, several pull offs on road. Weekends best.
Stone Cross
The car park near to the shops is known to be active once Tesco's closes at 11pm, especially behind the hedge opposite Beaulieu Road.
Uckfield
Luxford's car park, it's pretty central but usually fairly secluded. Good older couples and a fair few stunners.
Westfield
Behind Courthouse Pub in the car park, Friday evenings 9pm.
Westham
Small lane on the A27 towards Bexhill from Westham, go over the river and on the left is a sign "Access Only" this is the lane which was the road and is quiet, it goes right through and joins the main road again, mix of gay and straight, mostly masturbation fun and panty fun with the straight guys.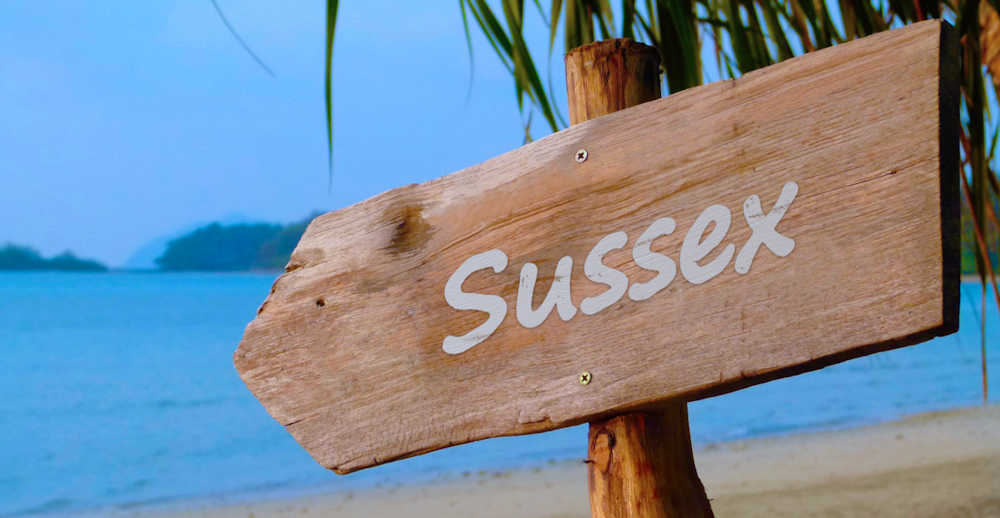 WEST SUSSEX DOGGING SPOTS
Arundel
Between Bury in West Sussex and Arundel there is a roundabout with access to the woods, lots of dogging there, nights are fantastic.
Whiteways, just off the roundabout. Late night.
From Crossbush Hotel head towards Worthing on the A27. Lay-bys left and right, action in the woods behind lay-bys.
Clymping
Eartham Wood
Definitely a superb location daytime and evening, I go there with my slut, so couples as well. Really quiet and loads of cover.
Goodwood
Road leading from A285 to racecourse car park on right. Selhurst Park. Men on men and couples.
Horsham
Cook Road, legendary location in Horsham. Most evenings midnight to 3am. Especially good on Friday and Saturday nights. Mostly straight, very little gay activity. Excellent for both voyeurs and those that want to be seen.
Lancing – Manor Hill
The car park at the top of Lancing Manor Hill, past the post office is a great space, it offers a car park if you like it in the car or a small wooded area if you prefer things outdoors. Probably too many actual dog walkers in the day but an amazing spot after about 10pm. Popular with younger couples.
Lay-by between Arundel and Chichester
Excellent pull in, during the day there is a mobile cafe, at night it is more relaxed. Lots of action all week long, gets better when the French and Dutch lorry drivers are around. They always come out to play.
Littlehampton
West beach, go down the A259 heading out of Littlehampton go over the bridge then take the next left (called Ferry road) then get to the end of that road, take the only right at the end (called Rope Walk) follow the road straight down till you get to the end car park. Busy most weekends normally midnight when most people are there, good for sex with horny wives, milfs etc. very good night out worth going!
Meeting outside Somerfield's bus stop Littlehampton after 8pm.
Mill Hill
Mill Hill North of Shoreham By Sea, over towards the youth hostel, picnic tables in parking lot.
Shoreham by Sea
The Old Fort car park at the end of Shoreham Beach, dogging on weekend evenings.
Sompting – Borstal Road
The Borstal Road between Sompting and Steyning provides lots of small and medium secluded car parks. Popular day and night, particularly at weekends.
Vowels Lane Forest Car Park
Two miles west of East Grinstead, about a quarter of a mile along from the Bluebell Railway Station, Kingscote, very popular for dogging, straight and bi something for every one, you can guarantee to get action any night of the week.
Worthing
Goring Gap also known as The Cabbage Patch. Shows in cars daytime and evenings. Between Goring and Ferring, just west of Worthing.
High Salvington car park.