The Attic Sex Club in Derby has gone and created an indoor Dogging Sex area for horny exhibitionists to get their car park thrills in the warm and dry and without the risk of being spotted by strangers. We don't really see the point of that because then surely it's not really dogging is it ? It's just pretend dogging !!! They've used an old Fiat vehicle with it's own unique Dogging number plate. There's also a tent with an old mattress inside and a picnic table for those who just want to be voyeurs. The club also has other areas where punters can indulge in fantasy role play such as a class room and doctors surgery. It's a non membership club, men can get in for £25, women for £10 and couples for £15. We'd rather stick with the real thing though and get some Derby Dogging Sex.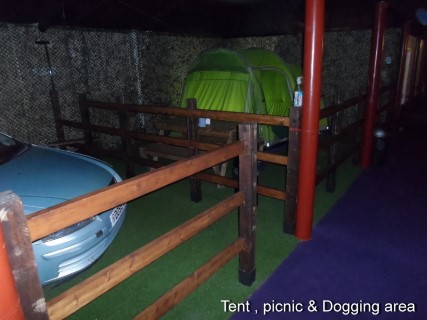 OTHER DERBY DOGGING SEX LOCATIONS INCLUDE:
Buxton – A car park down near the Goyt Valley Reservoir. Take the Goyt Valley turn off at the
Buxton end of Longhill and follow the road for about half a mile.
Chesterfield – Linacre Reservoir car-park. From Chesterfield take Newbold Road for a
while and then take the left to Cutthorpe. Follow a winding country road for a mile or
so to the entrance of the Reservoir on the left. You'll find several very secluded car-parks.
Clay Cross – Hardwick Park. Turn of the M1 at Junction 29 towards Clay Cross. Approx. 5 miles and
then turn left and follow signs to Hardwick Park.
Derby – Markeaton Park. Exhibitionists at Markeaton Park, in both main car parks off the A38 in Derby.
Ilkeston – Go through Manners Industrial Estate and there's a turn off to a little car park that goes down to Manner Floods.
Matlock – High Ordish Picnic Site, off Matlock Alfreton Road. Drive up Slack Hill near Matlock
and turn right at the top, and then 200 yards on your right there is a sign post for a picnic area.
This is well used after dark by all doggers.