The Attic Sex Club in Derby has gone and created an indoor Dogging Sex area for horny exhibitionists to get their car park thrills in the warm and dry and without the risk of being spotted by strangers. We don't really see the point of that because then surely it's not really dogging is it ? It's just pretend dogging !!! They've used an old Fiat vehicle with it's own unique Dogging number plate. There's also a tent with an old mattress inside and a picnic table for those who just want to be voyeurs.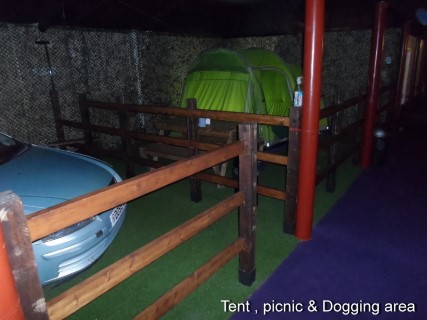 The club also has other areas where punters can indulge in fantasy role play such as a class room and doctors surgery. It's a non membership club, men can get in for £25, women for £10 and couples for £15. We'd rather stick with the real thing though and get some Real Derbyshire Dogging.
OTHER DERBY DOGGING LOCATIONS INCLUDE:
Allestree

In the park farm shopping area the toilets near the library but beware of the law.

Allestree Park

Just off A6, very quiet, secluded car park. Ideal for dogging. Quiet location set in beautiful derby, 11pm most nights gets quite busy at weekends.

Alport Height

I'm afraid there is no dogging here. The entry has been put in by someone with a very vivid imagination! On the face of it, it looks as though it would be excellent dogging site, but it isn't.
A remote beauty spot owned by the National Trust, open 24-7. Is found between Wirksworth and Belper, 4 miles west of Ambergate. The hill is easily identifiable by the radio masts that crown the summit.
There is one entrance to the site on the Spout-Bolehill road. The entrance is marked by a National Trust sign, and there is a gravel drive that splits in two. The left-hand drive leads to the 'upper car park' where voyeurs go… the right-hand fork leads to the 'lower car park' where the exhibitors go.
Alport Height is quiet, and good for the 'shy' amongst you. The site is 1/2 mile from the nearest building, and the site is never visited by the scuffers either.
It tends to be frequent by younger doggers.

Alvaston Park

Alvaston Park on London Road, Derby

American adventure, Ilkeston/Heanor, Derbyshire

A large car park, not well lit, for the American Adventure Theme Park, situated on the Ilkeston, to Heanor Road, at a village called Shipley, Used by singles and couples, during the hours of darkness. be ready to join in, lots of action, males, females and couples.

Buxton

A car-park down near the Goyt Valley Reservoir. Take the Goyt Valley turn off at the Buxton end of Longhill and follow the road for about half a mile.

Calton lees car park

Situated in Chatsworth grounds- have seen many doggers there! but be careful of police!!!

Chesterfield

Linacre Reservoir car-park. From Chesterfield take Newbold Road for a while and then take the left to Cutthorpe. Follow a winding country road for a mile or so to the entrance of the Reservoir on the left. You'll find several very secluded car-parks.

Clay Cross

Hardwick Park. Turn of the M1 at junction 29 towards Clay Cross. Approx. 5 miles and then turn left and follow signs to Hardwick Park – several couples to be found dogging in and out of cars.

Coach road car park

Coach road between golden valley and Ironville quiet car park that overlooks nice river

Derby

Markeaton Park. Exhibitionists at Markeaton Park, in both main car-parks off the A38 in Derby, and the smaller rear car-park. Sometimes a police presence. There is also a lot of gay activity here. This dogging site is VERY busy.

Flash lane

anywhere along the lane seems to be good but do get a lot of single males best during the day
This location has plenty of lay-bys lots of men wanking even seen one man getting blown at 9 in the morning and others driving around starker's! but this place needs more single ladies and wanton couples even ladies who just watch would be welcomed so come on girls

Friden

car park, rural very quite

Glossop

bulldog trading centre at the back of the mill

Highhordish nr Matlock

Picnic site. Loads of doggers and watchers

Holme Moss

Holme Moss is situated on the Derbys/W.Yorks border, on the Woodhead and Holmfirth road. There is a car park on the summit, which can get busy at weekend nights

Ilkeston

Go through Manners Industrial Estate and there's a turn off to a little car-park that goes down to Manner Floods.

Matlock

High Ordish Picnic Site, off Matlock Alfreton Road.
Drive up Slack Hill near Matlock and turn right at the top, and then 200 yards on your right there is a signpost for a picnic area. This is well used after dark by all doggers, being very secluded.

Ogston reservoir

follow the road on the left side the res. go all the way down at the houses turn right past the Severn Trent gates small turn round at the end, very quite, but good for watching and mixing in with the fun
go down the right hand lane past the res. when u get to the houses tune right past Severn Trent works gates at the end is a small area to watch or take part

Pond between Ilkeston and Long Eaton

On the road heading toward Stanton by dale there is a fishing pond with large car park and woodland area. Dogging goes on here regularly on the week end. Needs more people to really get this place going! Park up. Usual things apply, flashing interior lights etc

Ripley

the old brick works now has night guards on as there has been a lot of thefts
the old Butterly brick works in Whitley road of Peashill it not to far form the town centre and there are single males and females and also couples most nights some like to put on a good show and others like to watch and there is a few couples that let single males and females join in just park up and wait and you will find that the secluded road will fill up with a number of cars x

Sandy Lane near Horsley

This location has a big lay-by where couples always fuck great place for a crafty wank and can hear and see any cars approaching. even daytime action but nights best, also porn mags always in the bin. enjoy people and don't leave a mess.

Sainsbury's Ripley

Used after clubs close at 3am. Park up MacDonald's end of car park

Staunton Harold res

car park/picnic area Calke Abbey end of reservoir, is excellent for gay action at night,on carpark or take to the bushes, you do get some occasional teenagers coming there to smoke their dope, and police do visit, but well worth a visit.

Staunton Harold Reservoir Swarkestone, Derby

Lowes Lane through to Sinfin Lane. Lots of activity in the evenings and very secluded with plenty of laybys

Swarkestone, Lowes Lane

Lowes Lane area is off the Willington road and provides lots of lay-bys as it runs parallel to the A50. Loops around to Sinfin Lane by the canal.

The fishing pond car park Temple Normanton

People go there to watch and join in

Tideswell

Tideswell pot market, near the church.

Torside Car Park B6105

On the B6105 overlooking the Torside Reservoir, quite when dark when walkers have gone home.

Wales bar, on the borders of Rotherham and Derbyshire near Killamarsh Delves Lane

Heading from Killamarsh past the entrance to Rother valley park up the hill and past the petrol station turn left at the cross roads and head down to the end, lots of singles and couples, you can also get there from j31 on the m1, follow the signs for Rother valley and take a right near at the Chinese restaurant

Willington

Go out of Willington on Twyford road and take second left past the old power station, then after a few 100 yards is a small lane on the right (sign posted to Arleston) and up there are a few lay-bys that are used for dogging. Best nights are Thursday, Friday, Saturday and Sunday – there's always someone watching, along with couples looking for singles to join!